RON GOODWIN IN CONCERT
RON GOODWIN PLAYS BURT BACHARACH
Dutton Vocalion
Price: £11.00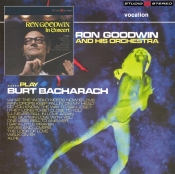 Track Listing:
Some Enchanted Evening, Oklahoma, Love Story, Big Country, The Girl with the Misty Eyes, The Stripper, The Magnificent Seven, Carousel Waltz, Fool on the Hill, Lancelot and Guinevere, Bridge over Troubled Waters, Baby Elephant Walk, The Days of Wine and Roses, Charade, Moon River.
Do you know the way to San Jose? Alfie, Wives and lovers, I'll never fall in love again, One less bell to answer, Raindrops keep falling on my head, This guy's in love with you, What the world needs now is love, The Look of love, I say a little prayer, Walk on by, (They long to be) close to you


THE FILM MUSIC OF
RON GOODWIN
BBC Philharmonic Orchestra conducted by Rumon Gamba

Chandos Movies


Price:

£16.00
Track Listing:
633 Squadron, London Theme from Frenzy, Lancelot and Guinevere, Deadly Strangers, Battle of Britain Suite (premier recording), Whirlpool, Main Theme from The Trap (The London Marathon Theme), Of Human Bondage, Monte Carlo or Bust Selection, Love Theme from 633 Squadron, Submarine X-1 Theme, Miss Marple Theme, Operation Crossbow, Clash of Loyalties, Beauty and the Beast, Force Ten from Navarone, Where Eagles Dare, Those Magnificent men in their Flying Machines Selection.


THAT MAGNIFICENT MAN AND HIS MUSIC MACHINE
Two sides of Ron Goodwin
EMI Studio 2 Stereo
Price: £16.00
Track Listing:
CD 1. The Early Years - Popular Singles:
Jet Journey, Blue Star, Skiffling Strings, Lingering Lovers, Colonel Bogey & the River Kwai March, Summertime in Venice, Red Cloak, The Melba Waltz, The Messenger Boy, The Girl from Corsica, Swedish Polka, Under the Linden Tree, Concetta, On the Waterfront, The Headless Horseman, Midnight Blue, The Song of the High Seas, The Laughing Sailor, Tropical Mirage, Handyman, Three Galleons, Guadalcanal March, The Little Laplander, Wagon Train, When I fall in love, Bluebell Polka, Song from The Moulin Rouge, Josita & Elizabethan Serenade.

CD 2. Ron Goodwin Original Compositions from Films and LPs:
633 Squadron, Love Theme from 633 Squadron, The Trap, Those Magnificent Men in their Flying Machines, Lancelot & Guinevere, London Serenade, Return my Love, Where Eagles Dare, Mercury gets the message, Cafe Royal Waltz, Decline and Fall, Frenzy, El Morocco Tea Rooms, Operation Crossbow, Jumping Jupiter, Monte Carlo or Bust, India, Miss Marple's Theme, The Milky Way, Battle of Britain, Kill of Cure, The Girl with the misty eyes, Departure, Aces High.




LEGEND OF THE GLASS MOUNTAIN & ADVENTURE

EMI
Price: £12.00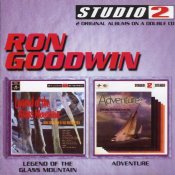 Track Listing:
Legend of the Glass Mountain - The Dream of Olwen - Theme from "Way to the Stars" - Warsaw Concerto - Spitfire Prelude and Fugue - Theme from "Limelight" - Tara's Theme - Rhapsody on a Theme by Paganini - Theme from "Moulin Rouge" - Cornish Rhapsody - 633 Squadron - Elizabethan Serenade - Song of the High Seas - Under the Linden Tree - The Trap - Those Magnificent Men in their Flying Machines - The Girl from Corsica - Theme from "Of Human Bondage" - Miss Marple's Theme - Operation Crossbow